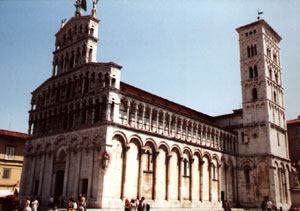 Shopping is limited to a few upmarket designer boutiques and numerous souvenir outlets in the old town. Nearby Pisa is a much better prospect.

During the daytime there are various small museums, a plethora of historic ecclesiastical monuments and ancient villas, many containing valuable works of art.

Piazza Napoleone, is dominated by the imposing Palazzo Ducale.
Shady place by tall plane-trees, it hosts a neo-classic memorial to Maria Luigi di Borbone, by L. Bartolini.

SS. Giovanni e Reparata was built in the 12th century this church preserves the original relief portal. It has has a nave and two aisles on ancient columns by Romanesque capitals, with transept and great abside.

The Cathedral is the most important building of Lucca with its Romanesque marmoreous façade and beautiful portico and by the 13th century bell tower embellished with merlons. Many works of art by the sculptor Nicola Pisano, Tintoretto and Giambologna. On the altar "Madonna with saints" by Domenico Ghirlandaio. The sacristy preserves the famous masterpiece "Monumento funebre di Ilaria del Carretto", (1408) by Jacopo della Quercia.

The nightlife here is very low-key. Various unsophisticated cafes and bars augmented by one or two smarter restaurants in the old town.

Places to eat here is fairly limited in the old town. Only a handful of proper a la carte restaurants, although there are many little cafes and snack bars tucked away in the labyrinthine streets. Several unsophisticated alternatives beyond the ramparts.