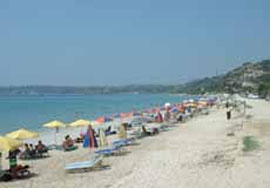 The beach here is a 3-ml-long, gently shelving mixture of coarse pale sand and shingle in a gently curving bay backed by rugged pine-clad hills, this area can get busy peak season. There are sunbeds, parasols and a few pedalloes for hire. A number of tavernas line the beach front offering drinks, snacks and meals.

There are a couple of minimarkets and souvenir shops. The nearby village of Vlachata boasts a few additional supermarkets but, for a wider choice, shoppers need to go to Argostoli.

During the daytime the main activity is beach life or exploring the area by car.

The nightlife here consists of a few bars, but activity is mainly centred on the beachfront tavernas.

For food there is a choice of tavernas offering mainly Greek, but some international dishes. Beachside tavernas serve fresh fish daily.