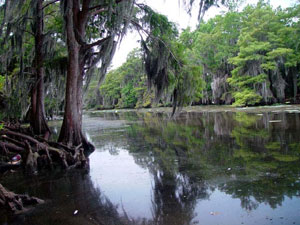 Jackson Square, New Orleans - The heart of the French Quarter, where you can enjoy some of the world's best brass band and jazz music for free.

Sunset over the Mississippi, New Orleans - Settle yourself down on a wooden bench and watch the sky turn violet over one of the world's greatest rivers.

Uglesich's - The best seafood in the world dished up in a down-home New Orleans shack.

Napolean House , New Orleans - This gorgeous old bar is just the place to pass a steamy New Orleans night.

Southwest Louisiana Zydeco Festival, Plaisance - The very best in black Cajun music, food, arts and crafts in the heart of Cajun country.

Eunice - Welcoming little Cajun prairie town that's at the heart of the region's enduring music scene.

Swamp tours in Cajun Country - Local guides take you in small boats through ghostly, Spanish moss-shaded bayous.

Mardi Gras, New Orleans - Crazy, colorful, debauched and historic - this is the carnival to end them all.