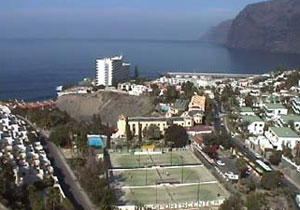 Beaches: Playa los Guios at Los Gigantes is horseshoe shaped with black volcanic sand, there can be some strong undercurrents. Public bathing at Oasis Lido. Playa de la Arena, to the S of the resort, has black sand, a palm-lined promenade and good public toilets/changing rooms; popular with locals at weekends.

Shopping: There is a very limited choice for shopping in this resort, but it is adequate for most needs.

Daytime Activities: During the daytime the activities are mainly beach and lido based, there are some water sports including a diving centre, exploring the striking, stark hinterland; catamaran trips to see dolphins and whales, boat trips, and a sports centre with tennis courts.

Nightlife: The nightlife in Los Gigantes is limited but always expanding, they seem to be centred on the newer area of Los Gigantes.

Eating Out: There is ample choice of restaurants located throughout a wide area.

Excursions: If you fancy island hopping for the day the port nearby in Los Cristianos will take you to the nearby island of Gomera or even Gran Canaria in less than an hour! So you will never be stuck for anything to do!