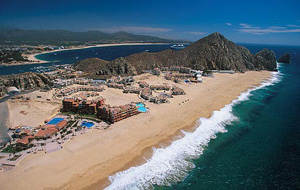 Popular attractions include:

Baja by Sea Kayak - Paddling adventures with photos and maps.

Cruise the Sea of Cortez - cruising, sailing and diving in the Sea of Cortez.

Cruising Mexico - sailing the Sea of Cortez.

Golf is a popular daytime activity. Los Cabos boasts several beautiful golf courses , including designs by Roy Dye, Trent Jones and Jack Nicklaus.

Hikers take trips of several hours to several days into the highland peaks and valleys of the nearby mountains, the Sierra de la Laguna.

Whale petting is a popular tourist pastime. North of San Lucas on the Pacific side, Baja has several protected lagoons where whalers once killed whales by the thousands.