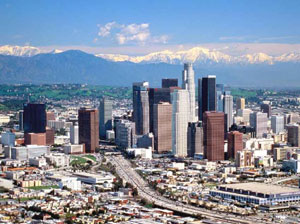 Along the Pacific shore, Malibu, Santa Monica, Marina Del Rey and Palos Verde are high-class residential beach communities. Venice Beach, on the other hand, is known for bikini clad roller bladers, muscle-bound weight lifters and an odd assortment of slightly off-beat characters.

Long Beach is a thriving seaport with a vibrant commercial district and oil wells. Laguna Beach houses a large artist's community.

Hollywood is the historic home of the old movie studios, and Beverly Hills is still the home of the movie stars. Here you can drive along the western terminus of historic route 66 on Santa Monica Boulevard. You can stroll along famous Hollywood Boulevard and the Sunset Strip.

The best way to see Hollywood is on a walking sightseeing tour. Most of the main attractions are located within a few blocks of Mann's Chinese Theatre, on Hollywood Boulevard. The courtyard of the Chinese Theatre with its famous handprints and shoeprints of all the Hollywood celebrities since 1927, is the most popular attraction in Hollywood. If you go between noon and midnight, you can even see a current hit movie in the Theatre.

In nearby Burbank, you can visit many modern movie and television studios. In Anaheim, you can see the original Disney Land and Knott's Berry Farm.

Downtown is certainly a commercial district, but it is no more the urban center of the city than many other neighborhoods. Near the downtown area are ethnic neighborhoods with large Asian populations called, Korea Town, China Town and Japan Town.

Nearby are several predominately Afro-American neighborhoods and many predominately Hispanic-American neighborhoods.

The Hollywood Bowl is a natural amphitheater, located in the foothills outside of Los Angeles. It is the home of the Los Angeles Philharmonic and the Hollywood Bowl Orchestra. Frank Sinatra, The Beatles and Mikhail Baryshnikov are just a few of the legendary artists who have performed there.

The LA zoo has more than 1,500 animals, birds and reptiles in natural habitat settings. It is located near the junction of the Golden State and Ventura Freeways inside Griffith Park.