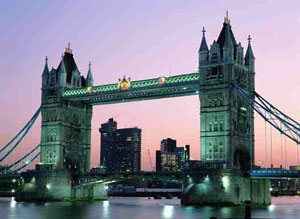 The Tower of London has a whole day's worth of things to see just in itself - there are the White, Bloody and Martin Towers, where prisoners were held and often tortured, there are the Crown Jewels, displayed in a specially built jewel house, and don't forget the Ravens, without whom the White Tower would supposedly fall, and a great disaster befall the Kingdom.

The dome of St Paul's Cathedral is an excellent place from which to view the rooftops of London. The climb to the top is well worth the effort - on your way, you pass through the whispering gallery, where your whisper on one side can be heard at the other of the dome.

London boasts a large selection of museums and art galleries. The British Museum , The Science Museum and The Natural History Museum are all close to each other in South Kensington, but you will need to allow more than a day to see them all! The National Gallery and the Tate Gallery have splendid art collections, and there are many more of all size and type all over London.

There are no shortage of things to entertain in the evening in London - with the West End for popular shows and musicals, a wide selection of restaurants of all types, classical music at the Barbican or The London Coliseum, ballet at Sadler's Wells or the cinemas in Leicester Square to choose from.

There is a plethora of restaurants to suit every taste. With its massive multinational community every taste is catered for from chinese to indian. Food and drink can be very expensive.