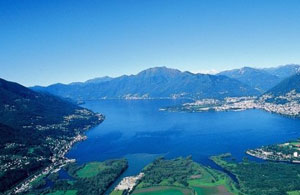 There is a host of souvenir shops with Swiss and Italian products on arcaded side of Piazza Grande. You will find Bric-a-brac and craft shops in Old Town. Many of the local stores selling the locally made pasta,cheese, sausages, wine and a type of brioche called "panettone" abound.

During the daytime activities include a town tour, particularly Old Town with its interesting buildings and churches, lakeside promenades, 15th-century and the Visconti Castle and museum.

There are a range range of lake-based water sports along with tennis, golf, and mountain walks.

In winter, skiing on Cardada/Cimetta slopes above the town becomes popular.

The nightlife here is generally low key. There is one dazzling casino, a few cinemas with films in their original languages, concerts and theatres.

The food on sale in restaurants here is predominantly Italian cooking in a broad choice of restaurants, pizzerias and taverns. There are some snack bars, but most of the hotels are proud of their standards of cuisine.