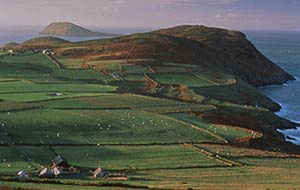 Popular attractions and activities include:

Former Quarry Village - Nant Gwrtheyrn, a once deserted quarrying village, now houses the National Centre for Welsh Language & Culture. It is also here that you can take a pleasant amble through an area teeming with Mabinogion folklore and natural history.

Remote Fishing Village - The remote fishing village of Aberdaron can be found towards the tip of the Peninsula. Traditionally, it was the last stopping place for pilgrims on their way to Bardsey. Its delightful beach has won awards and is always highly popular with families.

Sailing and Water Sports - For the more adventurous, the areas magnificent coastline is ideal for sailing and other water sports. It is known as the 'Cowes of the North'. There are also plenty of facilities for golf, tennis, walking, fishing and horse riding. There is an attractive sailing harbor at Porthmadog, which was a lively shipping port for the Welsh slate industry until the early twentieth century. While just outside the town is Morfa Bychan, where visitors are always delighted to discover the never-ending sandy beach at Blackrock Sands-one of Britain's finest!

Adventure Park - For families who fancy a spot of fun, Bodvel Hall Adventure Park at Boduan (near Pwllheli) lets the kids burn up some energy while the adults are able to relax in its wonderful grounds. On the other hand, Criccieth is the ideal coastal resort for visitors who prefer to sit back and relax.

Museum and Exploring - In the village of Llanystumdwy is an excellent museum which celebrates the life of Lloyd George, the areas most famous son and one time Prime Minister of Great Britain.

Inland Llyn is well worth exploring for its lush valleys, crystal clear lakes and imposing mountains. The region is rich in mineral deposits and tourists can enjoy a visit to the Victorian copper mines at Beddgelert.

When you visit the Llyn Peninsula, you would be forgiven for thinking that you had stepped through a time warp and had drifted back to a far less stressful period in history. Its tranquil beauty, its thriving use of the ancient Welsh language and its stupendous scenery make it a unique and fascinating part of Wales.