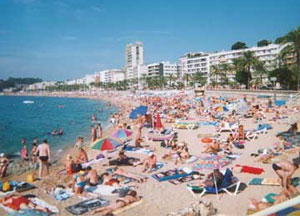 The main beach is made of gritty, light-coloured sand runs in a bold ½-ml strip between headlands and is the focus of the resort. A second beach, smaller but also impressive and less crowded, lies W beyond a steep coastal hill and is known as Platja de Fenals, parasols, beach bars and pedalloes are all available.

In addition to the usual tourist shops, there are many small boutiques and gift shops throughout, with the main concentration in the streets parallel to the promenade. The best-value local products are leather goods and pottery.

During the daytime there are plenty of beach based activities, including water sports. Off the beach there is a go-kart track, bowling alley, riding stables, Skyrider (bungee capsule), minitrain and series of walks visiting the smaller bays along the coast and some of the churches and farmhouses inland. There is also a n athletics track and sports centre close to main bus station.

The nightlife here is lively and the centre pulsates at all hours with music bars, usually with a non-Spanish theme, There are discos, some with spectacular laser shows, a casino and entertainments laid on by hotels.

There is a vast number of restaurants and cafes, most of which are in the narrow streets of the old town. All types of cuisine can be found, the menus usually have photographs of the dishes to identify them to the thoroughly cosmopolitan mixture of visitors. There is a heavy emphasis on British-style grub and fast food. There are also a few Spanish, or more precisely Catalan, restaurants offering local cuisine.