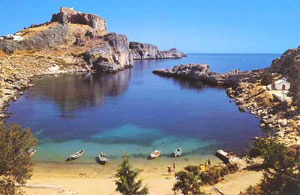 Lindos has 2 beaches, the main one of which, on Lindos Bay, is considered by some to be the best on the island, the swimming here is safe and there is a range of water sports as well as loungers and beachfront tavernas. It can be very crowded during the summer months.

Lindos has a large selection of supermarkets and the usual tourist shops. Common items include jewellery, leather sandals and traditional-style ceramics. Vliha has some basic shops near the hotels.

During the daytime activities are mainly beach- and water-based, including water-skiing, jet-skiing, paragliding and banana boat. For the cultural types exploring the town, including the ancient acropolis, amphitheatre and the local church for its unusual frescoes. Day trips to the local Rhodes town to explore even more history.

The nightlife here offers numerous bars, either with music or satellite TV, a few disco and late-evening shopping. For a more 'wild' night out a short taxi ride to the nearby Faliraki should quench the wildside.

There are a wide variety of restaurants to suit all tastes, ranging from traditional cuisine to good-quality Italian, Mexican and Chinese. Several fast-food options selling crepes or stuffed filo pastry.