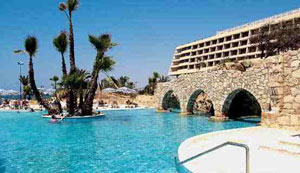 Limassol has a beach of dark coarse sand and pebbles. 2½ mls E of town is Dassoudi, the resort's main beach. It is equipped with modern changing rooms, snack bar, restaurant, car park and water sports; the beach itself is dark pebbly sand.

The marketplace in the old town has one of the area's largest selections of fish, vegetables and nuts. Numerous souvenir shops in the tourist area, but the best buys are in the old part of town, with an overwhelming variety of leather, shoe and jewellery shops.

During the daytime activities include visits to the medieval castle near the old port of Limassol, now a museum. There are two other museums, and ancient buildings within the old town. Dassoudi Beach has a variety of water sports. Most of the major hotels provide good water-sports facilities.

The nightlife here can be found in the Potamos Yermasoyias area. There are lots of discos and numerous bars and tavernas, most with their own live bands.

There are a vast variety of restaurants that line the main coast road, with typical Cypriot tavernas, pizzerias, fish restaurants and kebab bars. Eating out is relatively inexpensive.