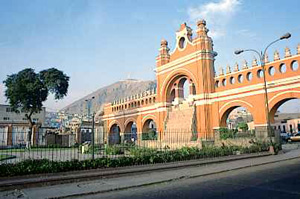 La Catedral - When this cathedral was originally constructed in 1555, it was considered too small and had to be rebuilt. It was badly damaged in the 1687 earthquakes and was almost totally destroyed by them in 1746. The church has interesting woodcarvings in the choir stalls and the altars are finely covered with silver.

Museo de Oro del Peru - The Museo de Oro del Peru is actually two museums rolled into one. Its massive Gold Museum has thousands of gold pieces, each uniquely sculptured into something different, from ear plugs to clothing decorations.

Plaza de Armas - One of the best things about travelling around Peru is to experience daily Peruvian life, which revolves around its plazas (squares). Lima's plazas are no exception.

San Francisco Church - The San Francisco church and monastery is known for its stunning baroque architecture and catacombs.

If the polluted waterways in Lima itself deter you from swimming (the best beaches are found south of Lima), you can go diving . Sailboat rides to nearby islands are reasonably popular and if you've been indulging in Lima's cafe and restaurant scene a bit too much, there are tennis and golf clubs to help burn off that extra girth.

If the slower paced activity of retail therapy seems more your style, then Lima has a plethora of shopping malls, boutique stores and markets just waiting to tear you from your hard earned cash.