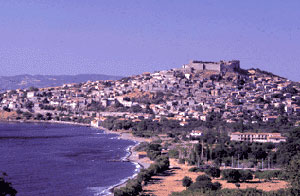 The beaches on Lesbos are mainly rocky, or gritty sand. Skala Kallonis and Skala Eressou are more sandy than others. Petra, Molyvos and Eftalou are mainly gritty. Other beaches at Mitilini, Plomari, Vatera, Skala Polychnitou and Sigri. Golden Beach beyond Eftalou is reached by footpath. Water sports available at most also with a choice of plentiful bars and tavernas and refreshment stals..

The shopping here is unsophisticated, offering a variety of souvenirs and local handicrafts. Leather, jewellery, ceramics; olive oil, ouzo, traditional cheeses are all the local speciality goods.

During the daytime activities include water sports, sightseeing, abundant monasteries, historic churches, Roman rubble, museums, the famous petrified forest at Eressos on W coast, caves and medieval hilltop castle at Molyvos, bird-watching on salt plains near Skala Kallonis, taking the waters at the thermal springs. There are also other activities such as Horse riding, tennis and volleyball at most resorts.

The nightlife here more low-key than the more popular islands, although still with its own complement of discos, restaurants, bars and tavernas. There are one or two cinemas. There are traditional festivals from time to time.

Restaurants here are of high-quality, abundant seafood is more reasonably priced than on most islands. Emphasis on traditional Greek fare, plus international choices or fast food (including souvlaki, pizzas and hamburgers).