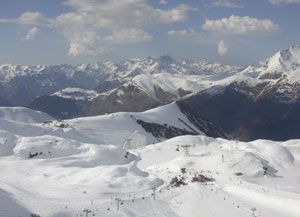 There are at least 6 different ski-schools, all offering instruction in English. A 6-day ski-pass also gives access to the nearby resorts of La Grave and Vallons de la Meije.

The main area for shopping here is situated along the main street and at the commercial centre at the Place de l'Alpe de Venosc. They are predominantly sports shops selling expensive designer equipment.

During the daytime the activites available include skiing and snowboarding in both winter and summer on the glaciers above the resort. Other winter activities include snow-shoeing and cross-country skiing, with a sports centre offering gym, squash, weight training, sunbeds and indoor pool.

In summer activities include hiking, horse riding, bungee jumping and white-water rafting. There is a heated outdoor pool. Several folk festivals in nearby villages of l'Alpe de Venosc and l'Alpe de Mont-de-Lans for a more traditional feeling of the area.

The nightlife in Les Deux includes cinemas and bowling, as well as a multitude of bars and heaving nightclubs, also night skiing is popular.

There are many reasonably priced snack bars, creperies and pizzerias. There is a choice of several high-quality restaurants offering international cuisine and local dishes.