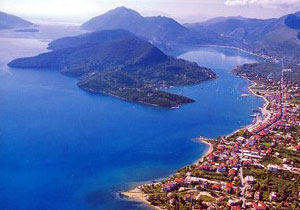 Lefkas offers all types of water sports and is prized for its calm waters for marine adventures .

There are sailing charters in Lefkada and diving schools in Nydri .

Vassiliki is the place for windsurfing and parasailing. In addition, there are many other sport activities that can be found all over the island.

Popular attractions include:

Scorpios , the famous private island of the late Aristole Onassis , which can be visited by boat.

The Byzantine Church of Panagia Hodeghetria , 2kms from the town.

Nidri , a quaint village on the eastern shore of the island attracts many holiday vacation travelers each summer.

Vassiliki , a small village at the southern edge of the island, becomes a summer international meeting place for windsurfers from all over the world.

Meganisi, a beautiful island lies beyond the island of Scorpios.

The Cape of Lefkata is situated at the most southern part of Lefkada and it offers a majestic view

Built in 1300 A.C., the Castle of Agia Mavra is situated near the channel, 1.2 km outside Hora, and is the island's link with Sterea Hellas.

The monastery of Panagia Faneromeni , the most significant religious monument on the island, stands 2 km east of the capital outside the village of Frynio

The Sanctuary of Apollonas and the Church of Agios Nikolaos at Athani

The Cave of Papanikolis , 12 nautical miles southeast of Lefkada, on the islet of Meganissi

The nightlife here is mainly taverna-based, apart from Nidri and Lefkas Town, where a few late-night clubs, discos and bars operate, but things generally close up by midnight.

Local Tavernas offer expensive, locally caught fresh fish as well as the usual cheaper Greek fare. Italian, Indian, Mexican and Chinese options can be found. Fast food is strictly Greek style, no McDonald's here. Plenty of sticky-cake shops offering traditional honey-soaked pastries.