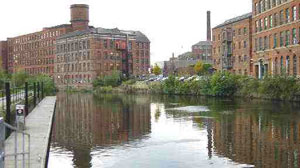 The are a number of walking tours around Leeds and these provide tourists with a real insight into some of the most interesting and historic attractions and areas of Leeds. Guided tours are available at various locations around Leeds city centre and are operated by 'Exploring Leeds'.

Walking tours of Leeds are always led by knowledgeable guides, most of which are local, and are one of the best ways to learn about the city of Leeds

Leeds Attractions:

Boat Tours and Cruises in Leeds - Leeds, England
Boat tours and cruises in Leeds provide one of the most scenic and enjoyable ways to learn about the history and attractions in Leeds.

Leeds City Square, opposite the Leeds City Railway Station, is a large, public square which is well pedestrianised. Home to the famous Leeds statue of the Black Prince, Leeds City Square is surrounded by a mixture of historic and more modern buildings and tourist attractions.

The Embsay and Bolton Abbey Steam Railway is situated on the outskirts of Leeds are provides scenic journeys from Embsay Train Station, which was built in 1888. With lovingly restored steam locomotives, this is a particularly memorable way to see the picturesque countryside and Yorkshire Dales that surround the city of Leeds.