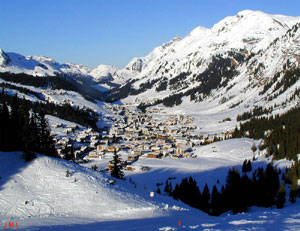 Lech has 2 ski-schools with 250 instructors cover Lech and Oberlech. Ski-kindergarten for children from 3 to 7 yrs; nonskiing kindergarten for children 3 to 6 yrs.

There are lots of exclusive boutiques and sports shops offering the latest designer ski-gear. There ia also a choice of supermarkets.

During the daytime the winter activities include alpine and cross-country skiing, horse-drawn sleigh rides, ice-skating, curling, floodlit toboggan run, winter walking and paragliding. Indoors there is also tennis and squash.

In summer time , hiking, the golf driving range, and swimming centre, are allp popular activities all set in the forest.

The nightlife in Lech is sophisticated, there is a variety of entertainment in a wide choice of bars and nightclubs.

Accommodation offers numerous possibilities with the accent on quality, so consequently pricey.