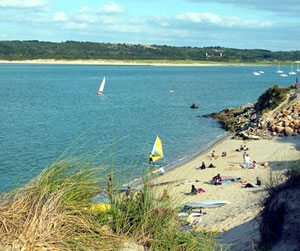 This area caters for upmarket and middlemarket couples and families. The accommodation here is pleasant, relaxing holiday hotels and a good choice of self-catering establishments dotted around the woods. 2-stars predominate.

Le Touquet's shops can be found on Rue St Jean and the adjacent streets. Some of the lowest priced food, fuel and other consummables may be obtained in the Hypermarkets. Supermarkets can also offer good deals.

There are 6 mls of rather exposed, fine golden sand invite summer bathing. S of the town are possibilities for sand yachting (windsurfing with wheels) and sailing at championship level.

Several beach cafes, bars and a thalassotherapy centre. Centrally placed is an attractive aquacentre with heated pools, wave machine and a giant water slide.

There is a wide selection of shops selling French clothing, food and luxury products, concentrated on narrow streets in an area of ¾ ml by ½ ml. There is a busy, frequently held covered marketin the area.

During the daytime activites with a cultural feel include strolling among the architectural sights of the town. Sporting activities including bicycles for hire, a racecourse, a choice of golf courses, 40 tennis courts, riding stables, swimming pools and water sports.

The tourist office announces competitions and cultural events throughout the year.

The nightlife here offers a few bars and cafes for the determined partiers; there are also casinos for the more gambling types between us.

There is a good range of restaurants for a small town. The River Canche comes up with some fine fare, but at a price. Some restaurants have impressive wine lists, again at a price. Overall gastronomy in the area is very expensive but the quality is there, you get what you pay for.