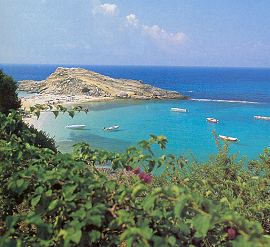 Shopping - is limited to souvenir shops, jewellery shops and a few minimarkets. Better choice in Argostoli.

Daytime Activities - are the beach life and water sports, go-karting, coastal walks, cycling. For the sight seeing people among us Exploring the peninsula, including Fanari lighthouse with its views across the bay to Lixouri which is exceptional at sunset.

Nightlife - consists of numerous bars with live music and restaurants which line the "strip", Greek evenings are a tourist favourite.. Further choice and discos a taxi ride away in Argostoli.

Restaurants - vary from original Greek tavernas to upmarket restaurants, there are a few international options, including Chinese and Italian.