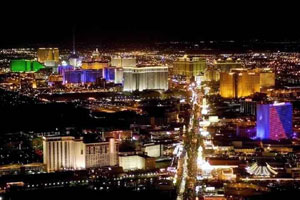 Las Vegas's lenient marriage laws have long been a major attraction for couples looking to get hitched in a hurry, and the city now plays host to over 100,000 weddings a year.

Large hotels, gaming tables and big production shows (laid on by the casinos as a way of preventing punters from straying too far from the gaming tables) have been drawing large crowds since the Rat Pack heyday of the 1950s.

Outside of gambling and shows, Vegas does offer a mixture of other attractions. Some popular ones include:

The free Fountain Show in front of the Bellagio shoots off every 30 minutes from 3 pm to 7 pm and then every 15 minutes until midnight.

The free Volcano Fountain in front of the Mirage errupts every 15 minutes after dark until midnight.

The free Sirens of TI in front of Treasure Island at 7, 8:30, 10, and 11:30 pm is a rather stupid show that they came up with to replace the Pirate Battle.

Also at the Venetian are the gondola rides . There are actually two different rides, both featuring serenading gondoliers.

The Eiffel Tower observation deck at the Paris offers a great view of the Strip and a unique way to see the Bellagio fountain shows after dark.

Even if you're not an art lover you'll enjoy the painted ceilings in the Venetian. The painted ceilings are actually in three areas; the main casino entrance, the hotel lobby, and the Galleria hall that connects the two.