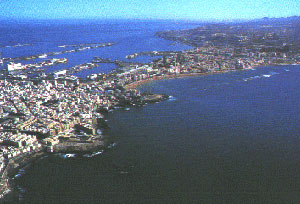 If you are looking for an active holiday there are plenty of places for you to visit and things to do in and surrounding Las Palmas.

Although there are not as many theme and amusement parks around the city of Las Palmas as the majority are based in the South near Playa del Ingles, Maspalomas and Puerto Rico the three main tourist resorts - they have a total 3 waterparks and plenty of theme parks, although still these are not too far to drive as the island is so small, so if you fancy a day at the waterparks or an amusement park you could hire a car or there are plenty of excursion that will take you there too!

Las Palmas nightlife is extremely varied tending to be more sophisticated than other resorts and very cosmopolitan, but also here you will find true Spanish traditional nightlife. The centre has plenty of lovely bars and nice restaurants.

If you are looking at partying the night away then you can do it here, in true Spanish style once the sun goes down here the restaurant, bars and nightclubs come alive!! If you like the hip-swaying salsa music, Live bands, Cover bands, jazz, or anything else then you will find it there! If you fancy a gamble then Las Palmas even has a Casino. Or perhaps take in a show, you can also do that! Whatever you fancy you will be able to find it in Las Palmas - maybe a quiet evening - nice meal and stroll along the harbour, with plenty of seaside restaurants here you have a choice of what you eat what you do whether it be lively, romantic or relaxed Las Palmas is the place to be!!! It is perfect for everyone - families, couples and groups of friends!

As you would imagine, there is a plethora of eateries including Canarian, regional, international, Argentinian, Chinese, French, Italian, Japanese, Lebanese and Mexican cuisine. Fast food is also available but mainly along the beach.