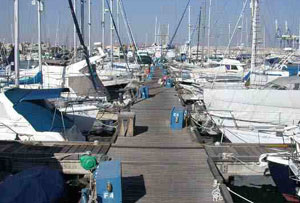 There are a few fine sandy beaches situated in all 3 resorts. Beaches at the rear of beachfront properties tend to be described as "private" and are looked after.

Some of the public beaches are looking a little neglected and are also narrow in places, making them extremely crowded, especially at weekends. Sunbeds and sun umbrellas for hire on all public beaches. Main beach areas are regarded as safe for swimming; if they are not, it is clearly marked.

Shopping is fairly uninspiring on the whole. Some shops, albeit of a limited variety, in the resort areas at Mackenzie Beach and in the Larnaca-to-Dekelia Rd area. therer is a wider variety of shops in the town centre, mainly souvenirs etc for tourists or everyday essentials for locals. There is a weekly Sunday market in Larnaca centre.

During the daytime there are plentiful water sports, including windsurfing, diving, snorkelling, sailing, parasailing and jet-skiing. Other activities include fishing, horse riding, go-karts,a fun park and camel rides. For the more cultural types exploring the town, with its museums, churches, 17th-century fort and remains of the ancient city of Kition is a must.

The nightlife in Larnaca offers plenty of bars, pubs and tavernas with live music. There are a few discos and clubs and an open-air theatre.

There is a wide variety of restaurants and cafes offering fast food and local and international cuisine, particularly kebab houses and open-air, beachfront eateries.

Eating out on the whole is a more casual affair. It is now getting harder to find the traditional meze houses, but there are some very appealing tavernas in the Larnaca-to-Dekelia Rd area. Fine dining is restricted to the 4- and 5-star hotels.