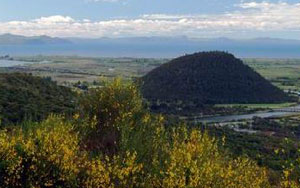 Taupo: Taupo is also well set-up if you want to take part in any adventure activities in the region. From Taupo you can go bungy jumping, skydiving, kayaking, rafting, jet boating or do a Rock 'n' Ropes course. In short, Taupo offers most of the activities that you can do in Queenstown at a lower price but the town itself isn't quite as pretty.

Fishing is another big attraction, Lake Taupo is full of both brown and rainbow trout and there's a big range of fly-fishing guides and trips available many of which can be booked from hostels. Some hostels also have fishing gear that you can use or you can hire a fishing rod from one of the local angling shops. You will also need to buy a fishing licence from the visitor centre or one of the angling or sports shops. You have a choice of spinning or fly-fishing on Lake Taupo, however only fly-fishing is allowed on the nearby rivers.

Turangi: Turangi marks the halfway point between Auckland and Wellington. The self-proclaimed 'Trout Fishing Capital of the World' is a popular destination for anyone who takes trout fishing seriously but for most backpackers it is an uninteresting and overly planned small town. It's an alternative to Taupo with a couple of good hostels and many activities available in Taupo can be booked from here. Turangi is also a convenient base for anyone planning on tackling the Tongariro Crossing or any of the other walks in Tongariro National Park.

Tongariro National Park : New Zealand's first, and the world's fourth, national park encompasses several of the North Island's largest active volcanoes including Mounts Ngauruhoe, Ruapehu and Tongariro. The majestic Mount Ngauruhoe is perhaps the most easily recognisable with its distinct conical features, while neighbouring Mount Ruapehu is home to the Whakapapa and Turoa ski areas.

Ruapehu made news in 1995 and 1996 when it erupted cutting the ski season short -- Whakapapa is back in business and is still the North Island's leading ski resort.

State Highway 1 runs through the bleak Rangipo Desert on the eastern edge of the park where it is known as the Desert Road. Driving along this route, it is a surreal sight with a dry and barren foreground against a backdrop of smoking snow-capped volcanoes.

There are several excellent hiking trails in the national park including the three-to-four-day Tongariro Northern Circuit and the one-day Tongariro Crossing, which is regarded as New Zealand's best one-day walk. There are several companies that operate transport to and from the trailhead from Taupo, Turangi, Ohakune and National Park Village, making the Tongariro Crossing a popular day-trip. The park also has some good shorter walks from Whakapapa village as well as the climb to Mount Ngauruhoe's summit.

National Park Village : This small town on the main north-south train line was set up as an accommodation base for hikers and skiers visiting the national park. It has excellent transport connections and a good selection of accommodation, but it is a dismal place with very little character.

Ohakune : Ohakune is located on the southern slopes of Mount Ruapehu at the foot of the mountain road leading to the Turoa Ski Resort. This small ski resort town is New Zealand's carrot capital and it has a great atmosphere and lively nightlife. It is a much nicer place to stay than National Park Village, which is 20 minutes away.