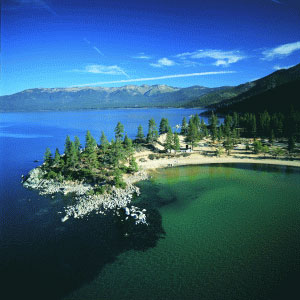 Heavenly's main Aerial Tramway, ski-school (with nearly 300 instructors) and day-care centre are situated at California Lodge, 3 mls S of the casinos. The Heavenly Gondola station is situated right in town, but accesses intermediate runs only.

The lake boasts a variety of beaches with brown-sugar-type sand.

There is a good variety of ski- and sporting goods in addition to a handful of major supermarkets. Small selection of factory-outlet stores offering clothing and footwear at prices cheaper than in the UK. Local shopping centres dotted all along Lake Tahoe Boulevard.

During the daytime in the winter season there is a huge choice of activities including snowmobiling, snow-shoeing, snow-tubing at Adventure Park, cross-country trails and sleigh rides.

In summer time there is extensive hiking, mountain biking, windsurfing and water-skiing. Daily boat excursions including paddle cruisers, hot-air balloon rides and golf. Those with fatter wallets can take aircraft tours over the region from the small local airport.

The areas nightlife in the winter offers choice of bars along Route 50, casino gambling, cinema, and floor shows. Additionally in summer, dinner cruises to Emerald Bay and fireside camping.

There is a big choice when it comes to eating out, with huge button-popping portions. Everything from the usual fast food to Italian, Mexican, Chinese, Thai and Western cuisine, focusing on huge rib steaks, burgers, Pacific seafood and mountains of vegetables and salad. Plenty of locally brewed beers and Californian wine.