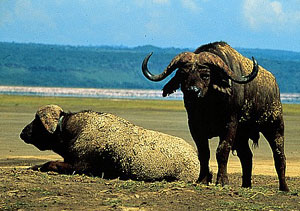 The park covers the lake and a land strip around the northern, eastern and western shores, whereas southward the grounds extend farther to Makalia Falls, which define the south limit.

The shores are surrounded by swamps, that during the driest seasons disappear to give rise to huge white salt crusts. The riverine forest opens up southward in a bush and acacia tree savannah. The eastern and western shores are framed by ridges that offer splendid lookouts over the lake: Lion Hill, Baboon Cliff and Out of Africa. At the west shore, Baboon Cliffs are the preferred habitat for some of the park's species, while at east, a part of Lion Hill is covered by a magnificent Euphorbia or candle tree forest, giving the landscape a prehistoric look. The park hosts several picnic areas and some hides have been erected nearby the lake for bird observation.

In addition to birds and rhinos, the park is home for a large number of mammals, including carnivores such as lions and leopards.

The short distance to the city and the frequent conflicts between environment conservation and development of the local communities have prompted a number of projects aiming at improving life conditions in the area and providing the residents a chance to meet this unique wildlife refuge. Kenya Wildlife Service has financed programs for health and education, namely for building classrooms and dispensaries, purchasing equipment and books, etc. On the other hand, the park owns a bus which offers low-priced guided tours to the park for Nakuru residents.