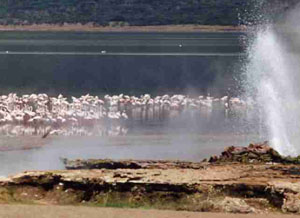 J.W. Gregory, the English geologist who travelled the region in 1892, blessed the site as "the most beautiful view in Africa". He wasn't off track. The lake displays a superb scenery of bluish hills populated with dry bush, grasslands and riverine forests, framing the calm water shallow pinned with flamingoes.

Beyond the eastern shore, the soil rises abruptly to 600 m in the Laikipia Escarpment.

At the opposite edge, the earth forms strangely coloured swampy crusts, which break up in deep gaps spitting stinky sulphur waters and steam jets. The close-up geysers, the pink brushstrokes of the flamingoes on the lake and farther the dramatic backdrop of the Laikipia Escarpment, convey a hardly beatable aesthetical composition. But watch out, don't get too close, the signposts warning "Stop - danger zone - go back" are serious: the earth collapses under your feet and beneath there is boiling water.