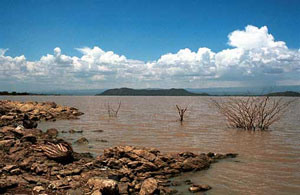 After the sunset, the visitor can watch the hippos emerging from the water to graze in noisy groups at the moonlit pastures. The lake is also populated with crocodiles, considered harmless by the local Njemps people, paranilotic fishers and shepherds related with the Maasai that speak a dialect of the Maa language. The Njemps sail the lake in small boats and dip into the water for fishing, while crocodiles wander about with the same purpose. The locals state that fish abundance has supported the croc population in such a way that the reptiles have forgotten the taste for mammal's meat. In fact, the high fish concentration has accustomed the Njemps themselves to this kind of food, which is not very frequent among the pastoral tribes.

It is true though that the lake's crocodiles are small and, therefore, are not classed as dangerous as their bigger relatives nor have they been hassled by hunters.

Baringo fresh waters host a fish variety absent in the alkaline lakes, which attracts a broad range of waterbirds. The rocky isle of Gibraltar, at the eastern shore, is blessed with the largest Goliath heron population in all East Africa . Another place of interest is the escarpment which lies next to the town of Kampi ya Samaki, at the western shore, where a lucky watcher could find Verreaux eagles, Hemprich's hornbills and bristle-crowned starlings.

In addition to bird watching walks and boat trips, with the guidance of a professional ornithologist, the lake offers a range of activities which include fishing, water sports (ski, wind-surfing), camel rides, day trips to the nearby Lake Bogoria National Reserve or visiting a Njemps village, where you can get a sip of the local handcrafts and dances. Activities are mainly run by the lake's two lodges, Lake Baringo Club and Island Camp. Local fishermen also provide boat trips, during which they usually spread fresh fish as a bait for the fish eagles.