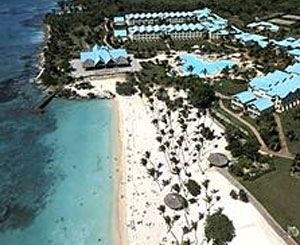 Apart from the palm-fringed, private, sandy beach at Casa de Campo, only meagre patches of rough sand and scrub, of little interest to tourists. Much better at Bayahibe, 16 mls SE.

There are many small, unsophisticated stores catering to the local population.

During the daytime there are beaches and amenities (including golf) at Casa de Campo.

The nightlife is varied and lively at Casa de Campo; a handful of discos and bars in town.

The local food is a cheap local fare, but take care that everything is thoroughly cooked. Don't drink the tap water (wash teeth with bottled water) and avoid salads or cold meats that are displayed without the benefit of chilling devices.

A popular escape from city life is provided by the small seaside town of Boca Chica, a 25-minute drive east of Santo Domingo on the Avenida de las Americas. The resort was developed by a wealthy industrialist around one of the best swimming beaches on the coast, and boasts crystal-clear calm waters, a yacht club and marina, golf course and some excellent seafood restaurants.

Inside the Colonial City stands the oldest cathedral in the western hemisphere, built in 1523 and still in use. Its mix of late Gothic and Renaissance elements provide a beautiful example of Spanish Renaissance architecture, with its golden coral facade and Gothic interior. Its walls have seen a great deal of history, including the coming of Sir Francis Drake who captured Santo Domingo in 1586 and held the town for ransom. He made the cathedral his headquarters.