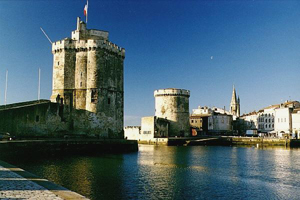 Rue du Palais and surroundings - The rue de Palais and the area around it is the real charm of La Rochelle. Rue de Palais is the city's main shopping street and is lined with beautiful eighteenth-century buildings. Among the finest are the Hotel de la Bourse and the Palais de Justice with its colonnaded facade.

The Vieux Port - The charming Old Port is very much the focal point of the town, lined with cafés and restaurants it's a popular place to relax for tourists as well as residents. The port entrance is guarded by two impressive towers that offer stunning views from the top.

Musée Maritime Neptunea - Just off the Place St Lambert is the Place du Marché. Place du Marché is home to Liège's symbolic fountain - Perron - which represents the freedom of the city. You can watch the world go by from one of the cafés and bars on the north side of the square, or visit Liège's 18th century Town Hall south of the square.

Aquarium - Explore the world under water at La Rochelle's Aquarium. The popular Aquarium offers two floors of massive water tanks filled with 10,000 specimen of underwater flora and fauna, living in what looks like their natural habitats.

Musée des Beaux-Arts - The Beaux-Arts Museum is housed in a beautiful Episcopal palace. The collection includes art from the 15th to the 19th century. Featured artists contain world famous as well as local artists.

Porte de Minime - Porte de Minime is a large modern marina development filled with nice shops, restaurants and lively bars. This is where the young and beautiful gather at weekends and summer evenings to sun and show off their tans on small, yet stunning Plage des Minimes.

île de Ré - 30 minutes from La Rochelle by bus
The islands many beaches make it a popular day trip destination in the summer. The île de Ré boasts 70km of coastline, including 25 km of fine sand beaches. The main town St-Martin de Ré is a picturesque fishing village surrounded by fortifications.

Le Musée d'Obirgny-Bernon - The museum houses exhibits of local history and ceramics. The museum also offers an impressive collection of Far Eastern art and an interesting display of photographs of La Rochelle during World War II.

Montagne de Bueren - The innovative Maritime Museum is the home of Calypso, Jacques Costeau's research ship. Admission to the museum also includes tours of a chalutier (fishing boat) and a meteorological research vessel.