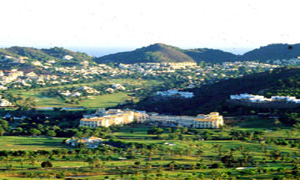 Golf

With its three magnificent 18 hole championship courses, truly world class facilities and year round sunshine, golf at La Manga Club is up there with the best in the world and a must for any golfing enthusiast.

The North (par 71) and South (par 72) courses, are beautifully designed mature courses, with palm fringed fairways, lakes and ravines with both culminating at 18th greens close to the Hyatt regency hotel. The South course is the longest and most difficult and requires a handicap certificate to play. The West course (par 73) offers magnificent views over the Mar Menor and beyond from elevated tees, it's lush and winding fairways provide a tough but breath taking alternative to the hugely popular North and South courses. For those wishing to concentrate on their short game or with less time to devote to golf there is also a stunning par 47 pitch and putt course.

Tennis

The facilities at La Manga Club are some of the most highly regarded in Europe, indeed Davis and Federation Cup matches are played here. There are 28 courts (most floodlit) with a choice of surfaces including clay, green set and astroturf.

The Tennis Academy at La Manga Club arranges weekly competitions run by a large team of fully qualified resident professionals who also offer five day courses or individual lessons for adults and children of standards. Other facilities include; the latest video playback and analysis, paddle tennis, a squash court, bowls, gym, sports shop (with equipment hire) and the new 'Tie-Break' refreshment bar and sun terrace.


Football facilities & Junior football academy

La Manga club hosts 2 large football pitches and a range of training areas. During the school holidays kids can develop their footballing skills at the La Manga Club Football Academy. Here they can train and play tournaments on the same turf as world class players like David Beckham, Michael Owen, Zidane and Figo.

The academy is run by FA and UEFA qualified coaches, and courses are designed to improve key footballing skills in a friendly, fun environment .The courses are very popular with boys and girls of all ability levels and are run from Monday to Friday throughout the school holidays.

It should be noted that the use of the football pitches are only available through the football academy.

Spa La Manga Club

Part of the Hyatt Regency, the superb spa and wellness centre has 13 treatment rooms, including two couple's rooms, three deluxe spa suites, a spacious gymnasium and fitness studio, jacuzzis, saunas, steam rooms, fun showers, and a six lane 25 metre indoor swimming pool. Treatments are designed to soothe, revitalise and pamper you and create a truly incomparable sense of well-being. Skilled therapists are on hand to guide and advise you and will help to create the perfect spa programme for you.

Scuba diving

The team of PADI (Professional Association of Diving Instructors) certified English instructors at 'Adventure Divers at La Manga Club' have something for all levels of scuba diving enthusiast, young or old. From beginner level, pool and shallow shore dives to wreck diving or exploring the underwater marine reserve at Cabo de Palos fishing village, one of the best of it's kind in Spain. Snorkelling classes are also available for the younger 'aspiring' scuba divers. The choice is yours.


Boat charter, Sailing, wind surfing & water skiing

The warm, sheltered and shallow waters of the Mar Menor provide a perfect environment for sailing and wind surfing. There are a number of RYA approved sailing schools that provide equipment and instruction for all levels of experience. If your taste is for larger sailing yachts or cruisers there are many boats available along the Mediterranean coast for skippered or bare boat charter, starting from half day duration. Conditions in the Mar Menor are ideal for water-skiing which is available throughout the summer and winter months.


Horse Riding

El Rancho de La Fuente Equestrian Centre offers riding lessons for all standards. Advanced riders can trek through the local foothills or take a gentle picnic ride along the beach. If you are not so confident about four-legged transport, the nature trails are just as beautiful when explored on Shanks' pony. Local areas of interest include 'Calblanque' and the beach coves of Cala Reona, whilst a 45 minute ascent of La Fuente hills to the summit will reveal unforgettable views.

Shops at La Manga Club

Although not blessed with an abundance of retail opportunities, there are still plenty of shops available around the complex in which to spend your money.

There are five main areas at La Manga Club where you will find shops, and we have indicated where you will find each outlet.

The five areas are:

Hyatt Hotel


Las Sabinas


La Plaza


Bellaluz


Atamaria Plaza

In addition, there is a small mini-market located at Las Lomas overlooking the North Golf Course.

Shopping options include: bakery, banks, chemists, fashion shops, hairdresser, gift shops, interior designer and furniture shop, jewellery, newsagents, property sales, sportswear, supermarkets!!

Restaurants in La Manga Club


Amapola : The crème de la crème of La Manga Club restaurants, Amapola has recently undergone a major refurbishment. The restaurant is located in the Hyatt Regency Hotel, and has an international gourmet menu. Its Sunday lunchtime buffets are highly recommended, if you are not too concerned about piling on the pounds.

Andale : A highly atmospheric restaurant complete with its own Mariachi band and located at the Tennis Centre. It specialises in Mexican food including tacos and tortillas, and rather wonderful margaritas. The restaurant has a large indoor dining room, and also offers al fresco dining in Summer on its large terrace.

Asia : The name is a bit of a give away in terms of what food it serves. The restaurants takes the best dishes from South East Asia and serves them in lovely, stylish surroundings. Located in Las Sabinas, it enjoys a great location if you don't want to wander too far for something to eat.

Bar 37 : The game of golf is legendary for building an appetite, hence the reason for Bar 37 located in the Golf Clubhouse overlooking the 18th tee of the North Golf Course. It offers breakfast, lunch and a variety of snacks, and is perfect for celebrating a great round of golf, or for mourning the birdie that got away.

Casa Victor : One of La Manga Club's perennially popular restaurants, thanks to its varied menu, and great value for money prices. Located on Calle de Atamaria close to Bellaluz, it is one of those places that always seems to be busy, no matter the time of year.

Deli-Café : Stock up on a few essential food items, and while you are waiting, why not sample some of the wonderful desserts and cakes which are craftily displayed next to the cash register. Also offers breakfast and coffee, and is located next to Peninsula Club overlooking the North Course.

Don Juan de Austria : Don Juan de Austria offers international cuisine at reasonable prices, right in the heart of Bellaluz community.

El Bistro : Another popular restaurant, it's location in Bellaluz's busy central plaza and its reasonable prices make it a favoured stopping off point for many visitors to La Manga Club. Renowned for its tapas and English breakfasts.

Halfway House : Situated on the 1st tee of the South Course, ideal for refreshments either before or after that championship winning round of golf. May be closed for part of the year as the South Course undergoes some remodelling.

India : After months of research, this is the name that Hyatt came up with for the new Indian restaurant that opened recently. Not surprisingly, it specialty is Indian food, and its location at the new Spa and Health Centre at Las Lomas makes it one of the most anticipated restaurant openings for a long time.

La Bodega : Located behind La Plaza commercial centre, and close to the Tennis Centre, its cosy atmosphere and relaxed ambience make it a good choice if you want a quick bite to eat. Specialises in Tapas.

La Cala : Part of La Manga Club, but located above a beautiful remote cove with great views out across the Mediterranean. The restaurant, which is open for lunch from Easter and serves succulent fresh seafood, also takes reservations for dinner during the summer months. Well worth risking the drive down the potholed road to try its varied menu.

La Caverna Lounge Bar and Restaurant : Situated in the Casino adjacent to the Hyatt Hotel, it is the place to go and drown your sorrows if the roulette wheel of fate has cast its long shadow over your fortunes, or alternatively the ideal venue if Lady Luck is smiling down on you and you have just broken the bank.

La Finca : Popular, usually very busy, and set in beautiful surroundings close to the football pitches. It has a varied international menu, and is favoured by visitors and long term residents alike.

La Pergola : A bar located at Las Lomas swimming pool, and only open seasonally.

La Princessa : Every golf course needs its own Clubhouse and bar, and this is perfect for those playing the challenging West Course. Score a hole in one, and head straight to La Princessa and buy everybody in sight a drink.

La Rusticana : Located on the road towards the West Course, it almost feels as though the restaurant is not part of La Manga Club. Renowned for its steaks, and has a nice location, making it worth a visit.

Last Drop : Popular bar located in La Plaza commercial centre, and serving a variety of snacks, bar meals and refreshments. Rumour has it that it usually only closes when you either fall over or run out of money. A cash dispenser is conveniently located next door.

Lorca Lounge : Either named after a famous Spanish poet, or a town in the Murcia region, it is the place to go for after hours drinks and is well renowned for its lively atmosphere. The bar, which is located in the Hyatt Hotel, has regular live entertainment most evenings from in-house pianist and local legend Brian Chapman. Name your tune, and he will probably be able to play it for you.

Los Molinos Pool Bar : Located next to the swimming pool at Los Molinos, it is a great place to relax and enjoy a long refreshing drink, and light snacks.

Luigi's : Hyatt's landmark Italian restaurant located next to the Peninsula Club and The Deli. One of those places where it is definitely recommended to book a table in advance, especially during High Season. It offers a good selection of pizza and pasta dishes. Takeaway menu also available.

Mr Chan's : One of the oldest restaurants at La Manga Club, and serving a highly varied menu from the Orient. Located in Las Lomas, it also offers a takeaway menu, if you don't fancy the formality of sitting down for dinner.

Mulligans : Similar to the Last Drop, even down to the location, Mulligans is popular with sports fans as there always seems to be a live football match on the giant screen. Good selection of draught and bottle beers available, and the "Games Zone" is an added bonus with pool, darts and bar games available.

Q Bar : One of La Manga Club's newest bars, the Q Bar only opened in August 2003, and is already proving a welcome addition to the complex's amenities. Located in the new Atamaria commercial complex close to the football centre, and also serving a variety of snacks and bar meals.

Run : A new Asian restaurant which opened recently in the Atamaria Commercial Centre close to the football complex. It's sister restaurant in Los Belones is more established, but once again, it is a welcome addition to La Manga Club's ever growing choice of food and beverage outlets.

Sol y Sombra : Located next to the swimming pool at the Hyatt, it is open seasonally during the day, and offers a selection of bar meals and refreshments.

Spikes : This is where the night people hang out. Live music, intoxicating cocktails, the perfect blend for late nights and heavy hangovers. Located in the hotel, it offers a good alternative to the Lorca Lounge, and caters for a younger (or young-at-heart) crowd.

Sportsman : Popular sports bar in Bellaluz which creates the ambience of an English pub and offers a selection of bar snacks.

Tie Break : Clever name for a snack bar and restaurant located at La Manga Club's tennis centre. Renowned for its juices, the perfect pick-me-up after an energetic game of tennis. It also offers a selection of snacks and light refreshments.

Tom's Pizza and Pasta : As the name suggests, they specialise in Pizza and Pasta. Tom's Pasta is located on Bellaluz Square, and has a good selection of dishes, whilst Tom's Pizza, which is separate, is located close by and does massive takeaway pizzas. When Tom started to make his pizzas, he obviously had the world's largest man in mind.

Uncle Sams : Perfect for fussy families - ie the kids only eat hamburgers. Uncle Sams is styled along the lines of a 1950s American Diner and serves the type of food to match with mountains of ribs, burgers, fries and other goodies available. Its central location in La Plaza also helps make it popular.

Yesterdays : Summer only night club located beneath Mulligans in La Plaza and playing all the latest sounds.