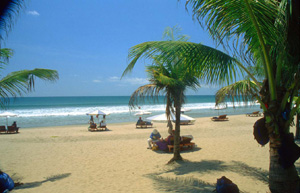 Kuta is Bali's most famous and most crowded tourist resort, known for its beautiful sweep of golden sand, crashing surf, sunsets, shops and energetic nightlife. The beach is also known for the persistant touts offering everything from sarongs to 'Rolex' watches.

Kuta has plenty of accommodation and good food and, despite its overwhelming popularity, it remains a cheerful, friendly place. It is a good base from which to arrange trips to the rest of the island and there are numerous activities, including various water sports, diving, surfing, and fishing in the area.

Nearby is one of Bali's top sights and the island's most holy place, the elegant multi-tiered Temple of Tanah Lot, spectacularly balanced on a wave-lashed rocky isle. It is the most photographed temple on the island especially at sunset. Kuta Bay area, including the two beach sites of Kuta and Legian , is a major drawcard for travellers, offering cheap accommodation, Western food, great shopping, surf, sunsets and riotous nightlife.

Although it's fashionable to disparage Kuta for its rampant development, low-brow nightlife and crass commercialism, the cosmopolitan mixture of beach-party hedonism and entrepreneurial energy can be exciting. It's a tourist gold-rush town with a get-rich-quick mentality and a planning horizon to match.

Kuta is not pretty but it's not dull either, and the amazing growth is evidence that a lot of people still find something to like in Kuta. It's still the best beach on Bali, with the only surf which breaks over sand instead of coral. Lots of cheap accommodation is available and there's a huge choice of places to eat. Shops and hawkers offer everything from fake flimflammery - laid out in boxes that open like jaws as you approach - to genuine antiques offered with a considerably softer sell. And despite all the excesses, away from the traffic-clogged streets Kuta is still a village: a place of quiet compounds and narrow alleys, where devotional offerings are placed in front of houses and neighbours emerge in the coolness of the evening to gossip in the street.