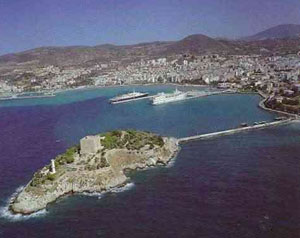 Ephesus is the biggest and best-preserved ancient city in the country and is one of the world's spectacular historical sites.

The beach here is a small, barely adequate man-made option fairly close to the harbour and resort centre. Another better, most popular stretch called Kadinlar Beach is found in the nearby village of the same name, about 2 mls away. Beaches close to town are not really attractive and are nowhere near adequate for the large number of tourists here in high season, which can lead to litter and untidyness.

The daytime offers plenty of water sports, a wide variety of shopping and excursions. The evenings are wall-to-wall discos and music bars concentrated in the centre behind the harbour front. Cafes and hotel bars are marginally quieter alternatives. Excellent choice of local cuisine, fast-food snacks and a particularly good selection of fish restaurants close to the harbour.