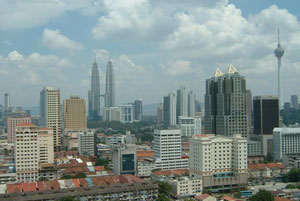 With so many different cultures mixing together, the nightlife is anything but dull in Kuala Lumpur. Although Malaysia is a Muslim country, alcohol is freely available in the capital and the nightlife is one of the liveliest in Asia. Strict government controls close many bars by 0100, although some clubs stay open later. The legal drinking age in Kuala Lumpur is 21 years. The average price for a bottle of beer is around RM10-14. Traditional nightlife for many locals still involves a visit to a bustling pasar malam (night market), where the focus is as much on socialising and people watching as it is on shopping, savouring the excellent hawker food and quaffing ice-cold beer.

There are plenty of bars, karaoke lounges, a few sophisticated nightclubs and discos. Many of the larger hotels provide their own facilities.

The day time offers all manner of attractions, including the National Museum, King's residence (Istana Negara) and Merdeka Square . Various interesting self-guided Heritage Trails. City tours. Petronas Twin Towers for views from the sky bridge. Lake Gardens for bird park, butterfly park, National Monument.

Nightlife is as lively and diverse as any major city. Evening cultural shows. Chinatown's busy night market.

Eating out is everything from familiar international fast food to teeming streets lined with Chinese, Indian, Malay, Thai and Japanese restaurants, coffee shops and roadside stalls. There are plenty of contemporary upmarket restaurants in hotels. Bintang Walk lined with pavement cafes and restaurants and part of Jalan P Ramlee has numerous bars and restaurants. Prices are good value.