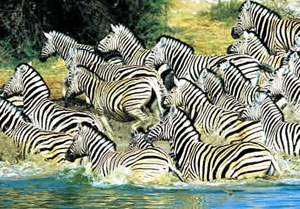 At Kruger National Park:

You should see:

Elephant, giraffe, zebra, buffalo, warthog, lion, spotted hyaena, baboon, hippo, impala, kudu, vervet monkey, waterbuck, tsessebe, wildbeest, bushbaby, mongoose, duiker, steenbok, klipspringer, genet, bats.

You may see:

Leopard, wild dog, cheetah, roan antelope, sable antelope, bat-eared fox, rhino, honey badger, porcupine, rhebok, aardvark, aardwolf, civet, caracal, serval, suni.

The park stretches from the Crocodile River in the south up to the Limpopo River, which is the international border in the north. Altogether it is 350 km long, 65 km wide and comprises an area of about 20,000 sq km. The best time for observing the animals is the dry winter season. Then the grass is low and bushes and trees don't have leaves, so that one can have an unobstructed view. Because it virtually doesn't rain in winter, the animals come to the waterholes to drink in the mornings and evenings and can easily be watched from the car.