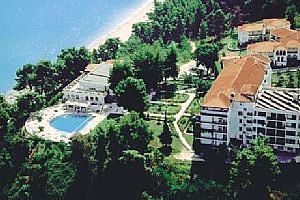 The beach is long and narrow, punctuated by little coves and broadening to the S, with pale, coarse sand. Gently shelving with calm water, it is safe for children and swimmers lacking confidence. Sunbeds and parasols mainly on the wider, southern strip.

The shopping facilities are generally very basic "bucket and spade" shops selling souvenirs, newspapers and simple clothing. A couple of small supermarkets. Local speciality is pine honey but there isn't much of it on the shelves.

The entertainment in the daytime is mainly beach- and water-based activities, including water-skiing, windsurfing, pedalloes and parascending. There are other activities such as tennis; horse riding; fishing; rambles in surrounding countryside.

The Nightlife is mainly music bars and hotel entertainment. Not a lot on offer for night-owls. There is not much in the way of variety. A creperie on the main road offers an alternative to the usual tavernas with their hybrid Greek/British fare.