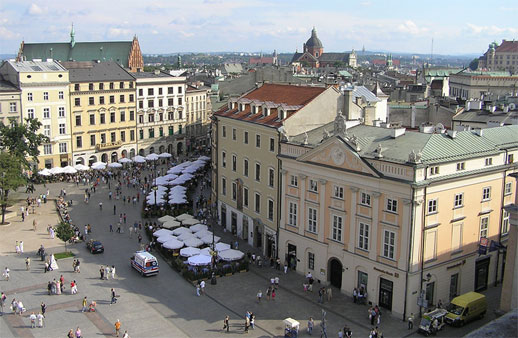 The Rynek Glowny (Main Marketplace) — Is one of the biggest medieval squares in the entire world which lies at the heart of the Old City. It is full of churches, bars and restaurants.

Wawel Castle - The former seat of the Polish kings and now a major museum and probably Krakow's main single attraction.

Kazimierz - The former Jewish district lying S of Wawel. More than 40,000 Jewish residents of Krakow and surrounding areas died in the Holocaust. Now there are very few Jewish residents of Krakow, but synagogues and other signs of Jewish culture remain.

Czartoryski Museum - is a former house of one of Poland's great families.

Centre of Japanese Art & Technology (Manggha-Centrum Sztuki I Techniki Japonskiej) - Hosts the National Museum's Japanese treasures and artifacts, consisting mostly of the fabulous 6,500-item collection of local legend Feliks Jasienski (1861-1929) who adored Japan.

Theater — Housed the Teatr Wielki from 1833-1834, the Rozmaitości Theatre from 1836 to 1924, then the National Theatre, the Reduta Theatre from 1919 to 1924, and from 1928 to 1939 the Nowy Theatre.

Galicja Jewish Museum - The Galicja Museum in Kazimierz hosts an exhibition of photographs associated with the Holocaust. Some are places where massacres occurred; most photos show old synagogues and Jewish cemeteries. The museum also has a bookstore, coffee shop and arranges coach tours to Auschwitz.

Gallery of 19th Century Art - This gallery houses one of the best collections of 19th century paintings in Poland.