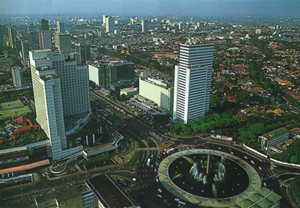 Things to See in Jakarta:
Ancol Dream Park (Taman Impian Jaya Ancol): consists of Dunia Fantasi (Fantasy world), Seaworld (for the largest aquarium in South East Asia), Gelanggang Samudra (Ocean Park), resorts, hotel, beach, marina, and great restaurants. It's one of the biggest park in Asia. Entrance ticket, weekdays : Rp. 133.000,-, weekend: Rp. 163.000,- Taman Mini Indonesia Indah: Just Like Its name which mean Beautiful Indonesia in Little Park we can see the whole Indonesian Culture from here. It offers an exciting tour of 30 provinces of Indonesia with samplings of the country's more than 250 cultures. Highlight features are the Museum Indonesia and the Keong Emas IMAX theater. Gedung Kesenian Jakarta (Jakarta Arts Theater): This neo-renaissance structure was meticulously restored, and now one of the proud landmarks among the many Jakarta buildings which have been conserved. Some of the city best performance by both local and visiting artists are often held here. Museum Nasional: The museum houses vast collections of prehistoric, ethnographic and archaeological artifacts, including one of the world's largest collections of Southeast Asian ceramics and Hindu Javanese art. The museum was opened in 1868. Entrance ticket : Rp. 750,- Pasar Baru: Although the name means New Market, it doesn't mean the place is new at all. Dating back to the Dutch colonial era, it has been one of the main hub for commodities trading. And nowadays, it has been nothing short of a mixture of stores packed up in a very limited space. You can bet to find unbranded items with good quality and good price here. Monas (National Monument): Jakarta's best known landmark, the 137 meter monument is located in the center of Merdeka (Freedom) square. From the observation deck, you can view the city. At the basement there are dioramas that portray the dramatic story of Indonesia history. Entrance ticket : Rp. 2500,-, ticket to the top of monas : Rp. 7500,- Presidential Palace. Located north of the National Monument, the official residence and office of the Indonesian president is open to the public on weekends for free, preferbly make reservation first and use formal clothes, no sandals. Textile Museum: The museum houses a large collections of textiles related to the religious and social practices of the major islands of the archipelago, including batik, ikat and kain ulos. Gedung Proklamasi(Proclamation Building): The historical site of Indonesian independence, where on August 17th, 1945 Soekarno-Hatta (Indonesian first president and vice-president) declared the nation's independence. Lubang Buaya: Another historical site, despite a darker one in Indonesian history. It marks the site where a failed coup d' etat by Partai Komunis Indonesia (Indonesian Communist Party) met its end, alongside the bodies of several high-ranking generals who were tortured to death for not cooperating the revolutionaries. Museum Sasmita Loka Museum Wayang (Puppet Museum): This museum is dedicated to puppetry, one of Indonesia's most famous traditional art forms. On display are the wayang kulit shadow puppets, three-dimensional wooden puppets and special dance masks. Wayang performances are presented on Sunday at 10 am. Jalan Surabaya (Surabaya Street): For a unique shopping experience, visit this lively open-air antique market on the fringes of the Menteng residential neighborhood. A good place to bargain for exotic treaures. Sunda Kelapa Port / Old Harbour: The old port area of Sunda Kelapa remains today as a bustling hub for inter islands trade. Graceful Bugis phinisi schooners, the world's last wind-powered sailing fleet used for trade, still berthed at the quay as they have for century. Ragunan Zoo: Located to the south Jakarta near Pasar Minggu, this 185-hectare city zoo contains a comprehensive collection of some 3600 species of wildlife from throughout Indonesua. Look for the rare Komodo dragon. The animals live in natural habitats. Pusat Primata Schmutzer consists of gorillas and other various primate fauna. Istiqlal Mosque: the biggest mosque in Southeast Asia and Cathedral Church located right in front of it) Kepulauan Seribu (Thousand Islands): Located north of Jakarta in the Java Sea, these stunning Kepulauan Seribu, easily accessible by speed boat from Ancol marina. This spray of some 300 hundred sandy, picturesque islets offers invigorating respitee for those wishing to escape from the bustling city. Museum Adam Malik: A small museum dedicated to Mr Adam Malik, one of the renowned figure, who represented Indonesia in the United Nations, among many of his other feats as Indonesian foreign minister then. Museum ABRI (Military Museum) Jembatan Kota Intan (Kota Intan drawbridge): The bridge was developed coincide with the development of Batavia by Jan Pieterzoon Coen in 1628, and the only one of the rests of many suspension bridge ever decorating Batavia city. Bird Market: Located at Jalan Barito in South Jakarta and Jalan Pramuka in Central Jakarta, here you can find various colourful tropical birds on sale. Fish Market and Museum Bahari (Maritime Museum): Located at the mouth of the Ciliwung river, this market area bustles with activities related to the sea. The Museum Bahari situated at the harbor, is housed in restored Dutch warehouses dating back to the first trading post of the Dutch East Indies. Bird Island (in Thousand Islands) Atmosfear Dry Slider Located in FX Lifestyle Center Mall Sudirman, one of the world's longest slider and fastest Museum Bank Mandiri : Located in the Old Town area opposite the Northern Terminus of Corridor 1 of the Busway and Kota Station,see the history of banking in the Dutch colonial era. Sections include the history of how the Dutch segregated the services offered to bankers by race, the history of the creation of Bank Mandiri and it's memorabilia , Colonial Era Bank Governors and Rupiah bank notes through time. Things to do in Jakarta:

Cinema: Movie theatre are a more affordable escape at around Rp50,000 for a plush seat in any of the capital's shopping malls. Beware of the heavy hand of the Indonesian censor though. The price of popcorn, drinks are exorbitant. Several other cinemas also show Indian, Chinese and Indonesian movies. And the lesser ones also exhibit Indonesian B-Movies with erotic themes (still heavily censored). The largest chain of cinemas in Indonesia are 21 group and Blitz Megaplex. Website: Cineplex 21. Fitness center: Large hotels provide free fitness centers for guests. Some hotels have sauna, spa, tennis court and jogging track. They are also available in shopping malls. Golf: Golf is the number one pastime of the upper classes and, as so many other things here, relatively cheap by Western standards. Green fees can go as low as Rp60,000 on weekdays, although the better courses are twice that, and weekend rates are considerably steeper at Rp300,000 and up. Bowling: Most alleys are found in shopping malls. The fee for a game is US$ 2.00 to US$ 3.00. Guest can rent bowling shoes etc. The length of the lanes are 32 feet. Football: It is not advisable to watch any live football match in Jakarta, because the Jakmania, Persija Jakarta's ultras often turn into rioters when facing Persitara's North Jak and Persib's Viking. During and after certain soccer games, foreign tourists should also not go near the Lebak Bulus Stadium, the site of similar feats by lesser teams. Jakarta also has plenty choices of Futsal fields in many areas. Dirt and grass makeshift fields are abundant in residential areas, and can be crowded with players, onlookers and vendors, especially on weekend afternoons. In these casual games, anyone can simply ask to jump in or relax. Drifting: There's a drifting circuit on top of Mal Artha Gading (MAG) To find more things to do visit [www.whatsnewjakarta.com] for events listing in Jakarta. Karaoke: One of the main entertainment program in Asia. With the most popular chains spread throughout Jakarta, such as Inul Vista (Sarinah, Plaza Semanggi, Kelapa Gading, etc), Happy Puppy (La Piazza, etc), and NAV (Kelapa Gading, etc). Expect to pay as low as Rp60.000 per hour plus tax for 6-person room.