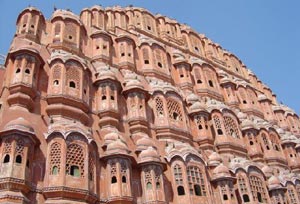 Popular Attractions in Jaipur include:

Amber Fort - Amber Fort is known for its unique artistic style, blending both Hindu and Muslim (Mughal) elements with ornate and breathtaking artistic mastery. The fort borders the Maota Lake, and is a major tourist attraction in Rajasthan.

Hawa Mahal (or Palace of breeze) - Hawa Mahal is a unique five-storey palace with an exterior that is resembes honeycombs of beehives. It has 953 small windows called jharokhas that are decorated with intricate lattice work. The purpose was originally to allow royal ladies to gaze through these windows to the streets below without being noticed.