Hong Kong - Outlying Islands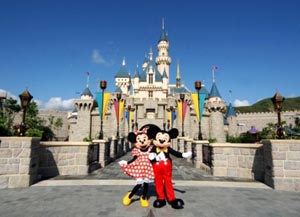 Hong Kong Disneyland (Lantau)- China's first Disneyland was opened in September 2005 and features some of the Disney favourites. The park has four themed areas: Main Street USA, Adventureland, Fantasyland and Tomorrowland. Being relatively new, there are fewer rides than the other Disney theme parks and some rides have a slightly different take on them. English speakers are well catered for, with all attractions providing translations, with the exception of the Stich adventure that has specific English session times. There is a choice of Chinese and American "cuisine" around the park. The fantasyland banquet hall offering the broadest range of food types and kids meals to keep everyone happy.

Inspiration Lake Recreation Centre (Inspiration Lake) - consists of the largest artificial lake in Hong Kong, also 1500 metre jogging trail. It is situated in Penny's Bay, a 15-minutes walk from Disneyland Resort MTR station.

Ngong Ping 360 (Lantau)- Hong Kong's newest tourist attraction combines a spectacular 5.7 km cable car journey that takes in an impressive cultural themed village and the Tian Tan Buddha. At the themed village there are a couple of attractions. The Walking with Buddha attraction gives an interesting introduction to Buddha, and has different stages, with headphones giving the narration in a variety of languages. The Monkey's Tail is simply a silent animated movie, with a simple moral. Combined tickets can be bought to cover all three attractions. There are about 10 restaurants in the village, serving a variety of food, all a little on the expensive side for what they are. There are some other restaurants in the true village, beyond the themed section. The cable car station is adjacent to the Tung Chung MTR.