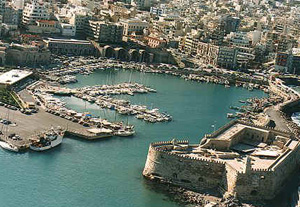 Things to see in and around Heraklion include:
The Palace of Knossos. Open Daily 08.30-15.00 Summer: 08.00-19.30. Knossos is the site of the most important and best known Minoan palace complex in Crete. It is located some 5 km (3 mi) south of Heraklion. According to tradition, Knossos was the seat of the legendary Cretan king Minos. The Palace is also connected with further legends, such as the myth of the Labyrinth and the Minotaur, as well as the story of Daidalos and Ikaros. Excavation has revealed that the site was continuously inhabited from the Neolithic period (7000-3000 B.C.) until Roman times. Heraklion Archaeological Museum houses the most important and representative finds from Minoan civilisation and excavations across the island of Crete. Highlights include statues of the Snake Goddess, the famous Bull-Leaping Fresco, the enigmatic and mysterious Phaistos Disk, and Minoan seals and jewelery. Also includes a number of finds from Classical Greek and Roman periods. The Heraklion Archaeological Museum is one of the world's great museums, embodying a whole splendid vanished culture. At least two hours should be allowed to see it, and it could easily take longer. For those seriously interested in that culture, it will be worth while to make two visits to the museum, one before, and one after, visiting Knossos and other Minoan sites: seeing the museum first will enhance your understanding of the sites, and after seeing the sites, you'll be better able to understand the artifacts in the museum when you return. Museum of the Battle for Crete and National Resistance Recounts the tale of Cretan and Allied resistance against Nazi invaders in World War II. Museum of Natural History, University of Crete, S. Venizelou Ave. Historical Museum of Crete, 27, Sofokli Venizelou Ave. /7, Lysimachou Kalokerinou St., Tel: (++30) 2810 283219, 288708. Lychnostatis open-air Cretan folklore museum, Tel: +3028970-23660, Open Sun-Fri 9AM-2PM. around €4,50. CretAquarium Thalassocosmos open June -September 09:00-21:00 October-May 09:00-19:00. The biggest aquarium in the Eastern Mediterranean. Located about 9miles E of Heraklion on the National Road (signposted) or by Cretan Intercity Bus. Nikos Kazantzakis Museum. Open daily from 9AM-7PM (Mar-Oct); 10AM-3PM (Nov-Feb) in the village of Myrtia (Varvari) 15 km. south of Heraklion Koules, the Venetian castle in the Harbour Venetian Walls
Loggia
Morosini Fountain (a.k.a. Lions Square) St. Minas Cathedral
St. Titus Church
St. Catherine of the Sinaites Church
St. Mark's Basilica Dominican Church of St. Peter Things to in and around Heraklion include:
Heraklion Summer Arts Festival - from June to September Amoudara the city's beach area; a 3km strip of sandy beach, lots of cafes, bars and hotels and the site of "Technopolis", a modern multiplex cinema and open-air theatre. Horseback riding, experienced and amateur riders can ride at the beach of Karteros, or take riding lessons at Ippikos Omilos Hrakliou, located 6km east of Heraklion, in Karteros. Rock Climbing, locals and visitors can climb on a 50 foot rock at the suburb of Karteros, east of Heraklion. Safety equipment is provided, but one can use his own gear too. Water fun, at the nearby Water City and Aqua Plus water parks.