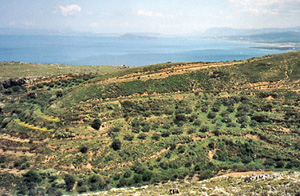 The area suits most holiday groups and ages, particularly those seeking a genuine experience of the Cretan way of life and its extensive history as well as relaxation, superb scenery, sun and sea. Hania is a good base from which to undertake private travel with hire car or other means of self arranged transport.

Accommodation offers a wide choice of hotels, with the larger cross-section of hotels and self-catering apartments found in the resort areas outside and mainly W of town.

For those interested in the beaches, there a few small sandy bays just W of the town centre together with long stretches of sand and pebble running for many miles. These beaches generally offer good bathing and are easily reached by the coastal bus service. Hotels and apartment blocks have their own sunbeds and parasols, and usually a snack bar which is open to the public. A few hotels offer low-key water sports such as pedalloes and windsurfing.

Shopping options consist of a good number of small supermarkets and food stores as well as the main municipal market hall and an old Turkish marketplace, both offering a wide range of goods including local produce. Halidon Street is home to the more touristy shops, while the larger hotels offer quality jewellery and clothing.

Daytime entertainment generally consists of exploring the town, including naval and archaeological museums, city archives, mosques, Greek Orthodox churches and old Venetian ramparts and arsenals; walking in the public gardens or around the harbour to the lighthouse; beach, swimming and water sports (windsurfing, sailing, water-skiing) in the villages W of town; tennis; hiking; cycling; water park. During the evening there are a few discos, bars and many restaurants with live music, the liveliest area being around the harbour front. There are a couple of cinemas and an open-air theatre also on offer.

Things to do and see around Hania include:
Akrotiri Peninsula to see the tomb of famous Cretan leader Eleftherios Venizelos and numerous interesting monasteries Allied war cemetery at Souda Bay Samaria Gorge ancient Minoan palace of Knossos and Heraklion archaeological museum Lassithi Plateau with its traditional villages and windmills; E Crete, including charming resort of Aghios Nikolaos and Venetian fortress at Spinalonga.