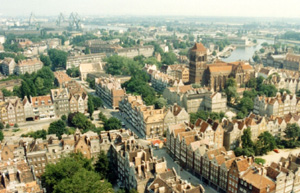 Popular activities in Gdańsk include sailing, canoe tours through the canals and swimming in the sea off Stogi beach. Stogi beach itself is large and has quite clean and fine sand, lifeguards, and several food stands and bars that service the toursists and locals.

Things to see in Gdansk include:
Archaeological Museum Tower Clock Museum Solidarity Centre Foundation - Roads to Freedom Exhibition (Drogi do Wolności) Gdańsk History Museum Maritime Museum
Long Street and Long Market. The Hall of the Main City - The old city hall has a museum inside showing off a nicely decorated room where the town council once met and some historic exhibits about the history of Gdansk. There are also "impressive" photos of the destruction after World War 2 10/5 PLN. Artus Court. Neptune Fountain - statue of Neptune (patron of the city). Crane over the Motława River Długie Pobrzerze (Motława River bank) - Impressive houses stand along the river bank. They can be nicely observed from the other bank of Motława. Golden Gate Green Gate Golden House St. Mary's Street St. Mary's Church - One of the largest gothic churches in Europe and supposedly the largest brick church in the world. There is space for more than 20,000 people in the church St. Nicholas Church St. John's Church St. Catherine's Church St. Bridget's Church Sołdek Ship (Museum) Royal Chapel - differs from typical Gdańsk architecture Grand Mill Oliwa Cathedral (Oliwa Park).