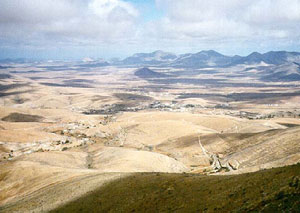 The Beaches Between Pajara and Jandia you will find an almost untouched beach of a length of 6 kilometers.
Golden sand and crystalline sea, and a colorful world under water which magically attracts divers. Just in front of the beach are cruising fishing-boats, as great amounts of fish have to pass this narrow channel between the island and Africa.
This beach is one of the less crowded of all the islands (parts of it are not accessible by car), so also the friends of nudism feel particularly well here. Corralejos is a pittoresque fishing-village in the very north of the island. Fine sand and crystalline water make its beaches some of the most beautiful of the archipelago.
Also the romantical village itsself is well worth a visit, and from here you may have an excursion by boat to the nearby island Lobos.