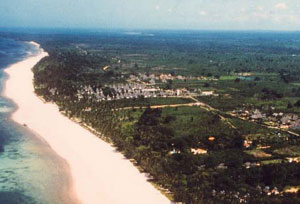 Diani Beach is particularly popular with package tourists wanting everything laid on and plenty of activities. Not for those seeking an unspoilt paradise or genuine (noncommercial) contact with locals. At weekends, the hotels may be invaded by the wealthier residents of Mombasa and Nairobi although the main market is package-tour business from Europe.

Accommodation offers little choice in the budget range, but plenty in the middle- and upmarket categories. Many of the larger hotels have converted to all-inclusive clubs, with the result that visitors tend to stay at the property they have chosen without wandering far afield. High seasons are Dec to March plus July and August when charter flights peak.

The beach itself is a very long stretch of soft white sand merging into Galu Beach to the S, protected by the offshore coral reef and backed by hotel lawns and coconut-palm trees. The water is clean and the gently sloping shore, extending to coral reef, makes it safe for swimming. Most of the beach S of the road junction for Ukunda can be virtually covered by the sea at highest tides. A common complaint among visitors is the constant pestering from hawkers on the beaches and in practice few visitors seem to lie out on the sands, preferring instead hotel pool areas. All beach amenities, including daytime security patrols, are supplied by hotels. Generally, it is not advisable to wander around on the beaches after dark. Weed can be a problem from July to Sept.

There are several modern shopping centres along the strip contain supermarkets, pharmacies, travel agencies for safaris and upmarket clothes shops. Also a few huddles of local curio stalls selling wood carvings, colourful clothes and tribal trinkets.

Entertaiment and activities include: water sports such as water-skiing, windsurfing, scuba diving, snorkelling, glass-bottomed boat trips over the coral reefs and sailing. By night there are live bands and nightly shows in most hotels; some bars and discos along the coast road with music ranging from reggae and Congolese to soul divas and Euro-pop.

Thos placing an emphasis on eating out will find several European and Asian restaurants along the coast road, including one in a cave. Several beach bars serving snacks and grilled fish. Some local eateries serve Kenyan food, notably grilled goat meat (nyama choma). It is not advisable to drink the local water; stick to bottled varieties.

Getting 'around and about' is fairly easy with a regular "matatus" (pick-up minibuses) run from the hotel strip and connect with the Likoni ferry for Mombasa; these offer an adventure as they tend to be overcrowded, confusing and in poor condition. A subcontracted taxi service is used by most hotels and taxis wait in hotel car parks.

Local excursions consist of half day trips to: 16th-century Kongo Mosque, at far N end of the beach; guided walks through the dwindling Jadini Forest, famous for its colobus monkeys; Colobus Trust (off the Diani Beach South Road) with its resident troop of monkeys. Full day: big-game fishing trips. See also under Mombasa, as organised tours pick up at Diani Beach hotels for the same excursions.