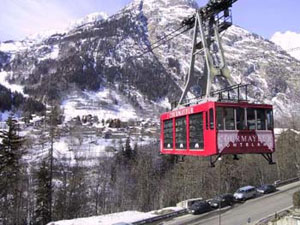 Ski - By European standards the ski area in Courmayeur is small, with 63 miles (100km) of its own pistes and short but numerous runs that cater to mainly intermediate and beginner skiers and snowboarders. However access is provided to the other resorts in the Aosta Valley, with a combined area of almost 497 miles (800km) of runs and 32 miles (51km) of cross-country trails available.
Chamonix is just across the border and is lift-linked to one of the resort's ski areas, offering a wide range of skiing options and off-piste routes on both sides of the border. Courmayeur offers skiing and boarding for all standards, but the groomed slopes are best suited for intermediates, while advanced skiers will find plenty of off-piste opportunities and high mountain ski areas to challenge the experts. There are two main ski areas at Courmayeur.
Checrouit-Val Veny, directly above the resort, is mostly suited to intermediates and beginners although the nursery slopes lower down are limited and can be crowded. Absolute beginners can also ski at Dolonne in the village. The most famous run is the 13-mile (20km) descent of the Vallée Blanche from Helbronner Point at 11,053ft (3,369m) down to Chamonix, which is daunting and demanding, but can be undertaken by intermediate skiers and snowboarders. The skiing from Cresta Youla at 8,700ft (2,652m) is excellent, but higher up at Cresta Arp the terrain is for experts only and should be undertaken with a guide. The second ski area is Mont Blanc and is for advanced skiers and boarders; a guide should accompany skiers on the high mountain terrain and the glacier. Snow is reliable and there are widespread snowmaking facilities. Shopping : Many stylish little shops and speciality shops make shopping an Italian experience and there are a variety of goods to choose from.
Restaurants : Like most Italian ski resorts, evenings begin with the passeggiata, a stroll down the main street before a late dinner that typically lasts late into the night. Courmayeur has numerous restaurants, cafes, pizzerias and trattorias to suit all tastes and budgets, and eating out is almost as popular as time spent on the slopes. Most establishments are informal, relaxed and fabulous, but restaurants like Pierre Alexis offer more romantic and exclusive dining. One of the best spots for traditional Valdostana fare is the charming Leone Rosso, while the popular Pizzeria Tunnel has great pizzas.
Nightlife : Après-ski is a drawn out, rather laid back affair with bars spilling out onto the main street, such as the old-world Bar Roma that serves free snacks and the fire-warmed Café della Posta. The newer Cadran Solaire caters for the ritzy folk from the big cities, while the Red Lion and American Bar are more traditional bars. Late night options include discos such as Poppy's Pub, the Jimmy Night Café and Planet Disco Bar.
Activities : There is plenty of winter and summer action to be had in Courmayeur, but also plenty for those seeking some inactivity in beautiful surroundings, such as extensive lunches, cable car rides or soaking up the sun at high altitude swimming pools. Besides the skiing and snowboarding in winter, there is also cross-country skiing, heli-skiing and heli-boarding, snowshoeing, dog-sledding, snow biking, ice skating, paragliding and curling. A sports centre has tennis and squash courts, a fitness club and climbing wall. In summer there is hiking, parachuting, mountain biking and trout fishing available.