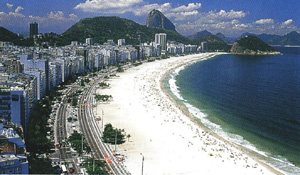 Copacabana is all about the beach and the related glamour. The beach here is deep and kitted with perfect powder white sand and glamour.
Watersports are in good supply with all types of activites on this section of beach.
For those interested in shopping, there is a modest selection of tourist shops set back from the beach selling beach related goods and tourist trinkets. A better selection of shops can be found a few streets further back. Eating Out offers a fairly wide selection of restaurants and bars which line the beach (and neighbouring Ipanema). Accommodation is varied but consist mainly of 2-3 star hotels with the odd upmarket hotel in the vicinity. Local excursions consist of a cable car ride up Corcovado mountain to the Staute of Christ the Redeemer; a cable car ride up Sugar Loaf Mountain; organised trips to the Favella's (recommended through major holiday companies only); a trip to the Maracana football stadium.