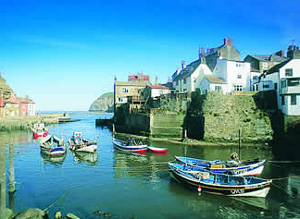 Cleveland has a growing cultural presence that has popular attractions such as the Rock and Roll Hall of Fame and Museum, the enormous Great Lakes Science Center and six-storey OMNIMAX Theatre, and the professional sports arenas and stadiums of the Gateway District that host major sporting events as well as live entertainment.

These are welcome additions to a city already boasting a world-class orchestra, a celebrated art museum, lively theatre district and the restored lakefront area. Neighbourhoods buzz with restaurants and shops, and the Flats, once the industrial heart of the city occupying both banks of the Cuyahoga River, is now the booming entertainment and nightlife district of Cleveland.

The historic Warehouse District is downtown's oldest commercial quarter and is a national Historic Landmark with over 70 fine examples of Victorian architecture. Once housing merchants' and manufacturers' goods, the old warehouses are now home to music clubs, galleries and trendy dining spots. Some miles out of the city centre are two theme parks with some of the world's tallest and fastest roller coaster rides at the Cedar Point Amusement Park in Sandusky, and the Six Flags Worlds of Adventure in Aurora.