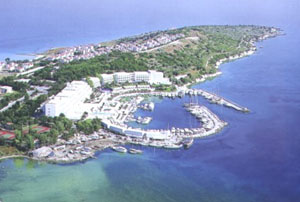 There is a very small beach at the north edge of town with fine sand. There is bigger and better at Altinkum, Pirlanta, Boyalik and Ilica, all within 4 miles. There is a more secluded beach at Ayaseranda.

For shopping there is the main street and side streets liberally sprinkled with emporia, typical of Turkey, selling oriental rugs, jewellery, leather and a generous selection of general souvenirs.

During the daytime activities include shopping, beach and sunbathing. The nightlife here offers discos and live-music bars.

There is an international music festival in July. For food there is a wide choice. Lots of local cuisine and Italian restaurants; some fast food. Prices tend to be very affordable.