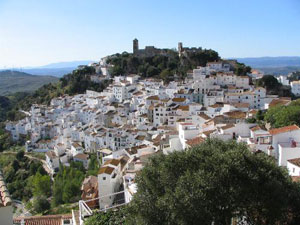 Those wanting a rewarding scenic experience can follow the narrow street adjacent to the Virgin del Rosario chapel. Keep climbing and eventually you will have reached the top of the town of some 1,400 feet above sea level.

There is an old fortress and a derelict church, as well as a marvelous view overlooking the rooftops of the village. Peregrine falcons and kestrels can be found here, on a clear day, you will be able to spy on the African coast with the Rock of Gibraltar looming craggily in the foreground. Tiny village shops full of local produce hide round every corner with a scattering of small bars and cafes thrown in for good measure. Local pottery and leatherwork are very good buys.

The town is almost untouched by tourism. Casares has its own little museum with artefacts dating from the Roman times. The whole town is a photographer's paradise. In Roman times the town was of such importance that it had its own mint and Roman baths which were ordered to be built by Caesar as a sign of gratitude to being cured of a skin complaint after bathing in the sulphurous waters in the locality. Numerous Roman ruins lie close by, including part of an aquaduct. A truly, sleepy village, locked in time. The local fiestas take place in the first two weeks of August and the Cristo fair takes place in September when the village comes alive.